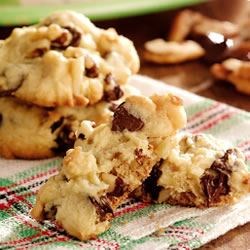 So we've been using Alton Brown's "
The Chewy
" recipe for years and then we come across
this recipe
with thousands of good reviews and nearly 5 stars. It uses the dry pudding mix in the dough, which I have never tried, but sounds very promising of a soft cookie to me!
They did bake up soft and slightly sweeter than Alton's. I'm glad they didn't turn out flat either- and you can make them even puffier by chilling them until they are icy cold before baking. The cookie dough was pretty yummy to eat too. Looks like it is a winner!
I bet it would taste even better with caramel or butterscotch pudding for a more golden flavor that should pair well with the brown sugar.